NB! WE ONLY HAVE TEN OF THESE PACKAGES AVAILABLE AT AN INTRODUCTORY OFFER. ORDER YOURS NOW! (And if you're one of the first ten people to make contact we'll throw in a bonus too.)
Vehicle owners want absolute certainty that their vehicle will take them from point A to point B safely and one way to ensure safety is driving with functional brakes.
But as important it is to drive with sound brakes, they often don't make time to have their brakes skimmed.
And when they make time, having to wait for their vehicle is about as enjoyable as drinking vinegar and Coke.
Throw in the mandatory social distancing and there's even less reason for people to leave their homes to get their brakes done.
That's why we offer you the opportunity to skim vehicle brakes where the client is.
We call it Business on a Bakkie.
Business on a Bakkie is a fantastic way to quickly start making money by targeting one of the biggest pain points vehicle owners have: driving a vehicle with safe brakes without the hassle of having to actually do something to keep their brakes safe.
Business on a Bakkie gives you ALL the tools you need immediately, so you can leave our shop and start earning. In this day and age you can't ask for a better opportunity.
And because it naturally fits perfectly with social distancing, this is a one-of-a-kind business opportunity.
Why's that?
Well, you don't need to go near the client. You can skim their vehicle's brakes in their driveway while they're comfortably sitting inside.
What you get
Your Business on a Bakkie comes with an on-car brake disk skimmer.
Here's more info and some pics...
Brake lathe
The brake disk skimmer, AKA brake lathe, is a money making machine available in two models: on-car and combination.
Choose the one that'll work best for you.
How it works
Start earning with Business on a Bakkie in five steps:
Pay for your Business on a Bakkie.

Fetch your kit.
Receive training.
Advertise.
Start skimming disks and earn.
Wouldn't you agree that making money (legally) can hardly be easier in this day and age?
That's why you must take action now and order your Business on a Bakkie.
Or wait for better days while others take the opportunity to make cash in a day and age where every cent is essential and social distancing seriously challenges conventional money making ideas.
Cost
You might think a package like this would put you back at least R65,000.
But for as long as the first packages are available we're letting them go for R56,000
But you must hurry.
With the current global crisis we can't tell what the next batch of machines will cost.
Breakdown of profit you could earn
This is an estimate of what you could earn by investing in your very own Business on a Bakkie.
This is based on the 202 on-car disk skimmer, not the combination model.
Depreciation term: 36 months.
Cost of Disk skimmer: R30,000.
Average working days in a month: 22.
Technical salary: R_205__ per day.
Cost of equipment: R__38_ per day.
Consumable (wear & tear, electricity) cost: R__10_ per job.

Add only consumables per job from the second service per day.

Selling price: R_450__ per axle.
| | | | | | |
| --- | --- | --- | --- | --- | --- |
| Services for the day | Cost / day | Selling price | Profit for day | Profit / month | Profit / year |
| 1st service | R 253 | R 450 | R 197 | R 4 334 | R 52 008 |
| 2nd service | R 263 | R 900 | R 637 | R 14 014 | R 168 168 |
| 3rd service | R 273 | R 1 350 | R 1 077 | R 23 694 | R 284 328 |
| 4th service | R 283 | R 1 800 | R 1 517 | R 37 730 | R 452 760 |
| 5th service | R 293 | R 2 250 | R 1 957 | R 43 054 | R 516 648 |
| 6th service | R 303 | R 2 700 | R 2 397 | R 52 734 | R 632 808 |
| 7th service | R 313 | R 3 150 | R 2 837 | R 62 414 | R 748 968 |
| 8th service | R 323 | R 3 600 | R 3 277 | R 72 094 | R 865 128 |
| 9th service | R 333 | R 4 050 | R 3 717 | R 81 774 | R 981 288 |
| 10th service | R 343 | R 4 500 | R 4 157 | R 91 454 | R 1 097 448 |
As you can see, doing only a single skim a day will make you good profit.
If you can do up to ten a day or more you're looking at serious money.
Financing
If you're wondering, yes, financing is available for your Business on a Bakkie.
Visit the financing page, download the application form and send it back. If you're approved we'll get back to you.
Limited introductory offer - act now!
We only have ten of these business packages in stock right now. I'm not sure what the next round will cost, given the way things are going globally.
That's why it's best to contact me now to book your Business on a Bakkie.
This message has been sent to a whole database of people, so by the time you read this I might be flooded with calls.
Please just be patient when you call and I don't answer immediately. If there are any Business on a Bakkie packages left I'll get back to you ASAP.
Optional add-ons
If you're already running a workshop you probably don't need any extras. You can just buy the disk skimmer and get going.
But if you don't have any tools, we have a selection for you to choose from to ensure that your very first skimming job (and every skimming job after that) runs without a hitch.
Here are some of the tools we offer...
Tools
You get EVERY tool you need for you to start a successful brake skimming business.
Here's a complete breakdown...
Brake caliper tool set
You will receive an 18pc brake caliper tool set, Micro-Tec brand.
Rear disc brake piston tool
The Micro-Tec rear disk brake piston tool removes and installs disk brake pistons and rotates piston back into caliper cylinder.
Wheel lock nut master key set
The Micro-Tec wheel lock nut master key set comes with thin wall sockets to prevent damage to wheels.
Extra long lug keys keep your wrench away from the wheel preventing nicks and scratches.
Double hex head design fits most lug wrenches as well as 13/16″ and 7/8″ sockets.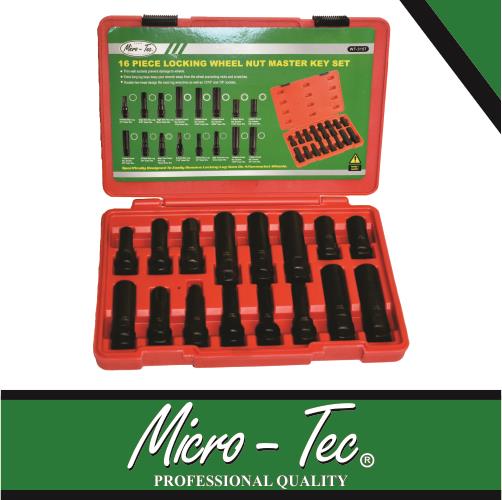 Brake adjustment tool
The Micro-Tec brake adjustment tool speeds up star wheel adjusting on drum brakes by simply inserting the tool through the slot in drum backing plate.
A different angle at each end adapts to many various models.
Pneumatic brake fluid extract
The pneumatic brake fluid extractor is vacuum operated and works on normal compresses air through a standard adaptor.
Max air consumption: 140 lpm or 5 cfm.
The unit contains a vacuum fluid extractor, bleeding hose with brake nipple and adaptor and automatic re-filling operation.
Brake spring washer tool
Provides leverage to remove and install stubborn hold-down springs of drum brakes on cars and light trucks.
Wheel spanner
You'll need a wheel spanner to remove wheels with.
You could use your client's wheel spanner, but it'll be quicker if you have one on you and at the ready.
We supply you with one.
Trolley jack
A 4 ton trolley jack is more than sufficient to lift most cars quickly so you can mount the brake disk skimmer and get going.
Trestle
Two 3 ton trestles will help you keep the motor the disks of which you're skimming, in place while your brake lathe is at work skimming.
Small Detroit compressor
You need a compressor to run your tools with. We give you one that's ample for running your Business on a Bakkie.
Plastic tray
Make sure you leave the client's driveway or parking spot spotless when you leave by catching all metal filings that come off from cutting the brake disks.
Magnetic dial gauge
You'll need a dial gauge to ensure the client`s brake disk is running true. This magnetic dial gauge is easy to use because you can stick it on any metal part.
Air blow gun
You'll need an blow gun to ensure you clean up all metal filings after cutting. You don't want to attach brake pads while there are metal filings on the disks.
Vernier
A 150 mm vernier caliper is sufficient to measure the brakes disks you're skimming. You'll need to be able to tell the client whether their brake disks are still of usable thickness.
Wire brush
A wire brush is handy for removing rust and cleaning up before you attach the machine.
Wire cup brush
A wire cup brush can be attached to a cordless drill and used for cleaning where the hand wire brush doesn't want to work.
You get two.
Painter's brush
A brush might seem like a simple, unnecessary tool, but it's invaluable for quickly cleaning up.
You get two.
Lubricating machine oil
The SAE10 lubricating oil is used to keep your machine running smoothly.
You get a 5 litre container.
Cleaning rags
Like the paint brush, rags might seem unnecessary, but you'll welcome this box of cleaning rags because it's a simple addition that works well at helping you clean up after the skimming service.
It's worth repeating that your client will think far more highly of you if you clean up after you've skimmed their brakes.
Aristo multi-purpose lubricant
You'll often run into a situation where the parts around the brake disks you're wanting to skim are rusted fast.
You'll need some lubricant to help get them loose. That's why we give you a 12 aerosol tins.
Spanjaard brake parts cleaner
Make sure the client's brakes perform well for a long time after you've skimmed it by cleaning the parts with Spanjaard brake parts cleaner.
You get 12 aerosol tins.
Mechanic's toolbox
This handy Micro-tec 62 piece tool box gives you even more tools to quickly and efficiently run through skimming jobs.